Last week, Andrea Stevenson Won sat down with her colleague, Christopher Byrne, for the latest installment of his podcast, Communication Breakdown, to chat about the Virtual Embodiment Lab.

One of the newer labs in the Communication department, the VEL has the advantage of a wide array of students with varying skill sets in the lab. Some students are Communication majors, others are from Information Science and some join from the College of Engineering. This diverse research group is trained to program virtual worlds, run experiments (including safely spotting participants as they experience virtual worlds), and even explaining the lab's research (like this blog post)!
Won credits the recent jump in interest in consumer virtual reality to the gaming industry. "Popular culture initially saw VR as a tool for the gaming community," said Won. With headsets now becoming increasingly affordable, Won hopes to see the technology breakthrough at an "institutional level" prompting wider research in the clinical, educational and collaborative potential of virtual reality.
Regarding clinical applications, Christopher Byrne and skeptics around the world beg the question, "Does it work?" In short, yes. Won referenced research by Hunter Hoffman where VR was used for burn victims undergoing painful procedures where they found immersive VR technology to help reduce the pain. Now, I don't think virtual beaches are going to replace anesthesia, but the power of this detail-rich technology is undeniable.
With all the good things about VR, there are some drawbacks Byrne knows first hand. "The first time I tried VR was my 50th birthday and I fell backward over a coffee table." While this is a possible danger of the technology Won quickly explained that he was most likely not being properly spotted and, while knocking on wood, she has yet to experience any sort of injury in her lab.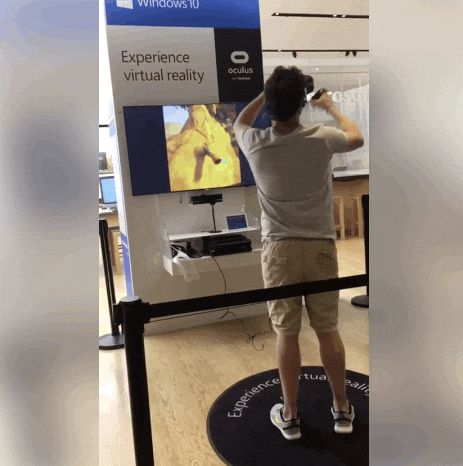 Click here for the complete podcast and make sure to follow us on Twitter and Instagram @Cornell_VR for daily updates and cool inside info!